Driving Directions
For Arizona, New Mexico, and SoCal residents, Rocky Point is very accessible–less than 4 hours driving time from Phoenix or Tucson. Close enough to come to the beach just for a weekend, and without the cost and hassle of air travel. And you can bring as much of your stuff as you can pack in your SUV! As for Las Palomas Beach & Golf Resort, this is the premiere resort complex in all of Rocky Point. The Sandy Beach location is amazing, and the resort is truly 5-star from the quality of the condo interiors to the availablity of resort amenities.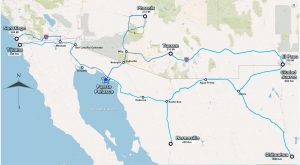 You can buy car insurance online or in any of the towns near the border. For many people, it's a good midway point to take a stretch break on the US side of the border, fill up on gas and buy insurance.
Airport: The Sea of Cortés International Airport is approximately 9 miles southeast of Puerto Peñasco. The airport currently offers two runways and can receive both private and commercial planes.
Spanish Road Signs
bus stop — parada
crossing — cruce
curve — curva
danger — peligro
dead end — sin salida
detour — desvío, desviación
downtown, city center — centro
exit — salida
lane — carril
no entry — entrada prohibida
no passing — adelantamiento prohibido
one-way — de sentido único, sentido obligatorio
parking — estacionamiento, aparcamiento (Verb forms are estacionar, aparcar and paquear, depending on the region. Parking is sometimes symbolized by a capital E or capital P, depending on the region.)
pedestrians — peatones
police — policía
prohibited — prohibido, prohibida
road closed — camino cerrado
slow — despacio
speed bump — tope
stop — alto, pare or stop, depending on the region
speed limit — velocidad máxima (typically indicated in kilometers per hour, often abbreviatedkm/h)
toll — peaje, cobro
viewpoint — vista de interés
yield — ceda, ceda el paso